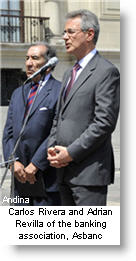 President Ollanta Humala met with Peruvian bankers to look at ways of improving security, following a number of attacks on clients who withdraw large amounts of cash.
This week, one person was killed and another injured after a gang followed a man who withdrew 260,000 soles ($100,700) in cash. The attack occurred at a notary public's office, where two men were finalizing the sale of a house. Similar attacks occur fairly regularly in Lima, often ending in violence.
Government and bank officials on Thursday said that the major part of the problem is that people continue to deal with large amounts of cash, rather than using the financial system to transfer money.
Cash is still used on a regular basis, even for large purchases, partially because the country's financial sector is even new to many people in low-income urban and rural areas, but also many are mistrustful of government overreach or prefer to continue working within the informal sector.
The government last month authorized the launching of mobile banking, as a method not only to reach rural and inaccessible areas — there are 32 million mobile phones in use in a total population of  30 million— but to reduce the incidents of theft and violence. 
The penetration of the country's banking industry is among the lowest in South America, accounting for less than 30 percent of Peru's GDP. In Chile, the penetration rate is about 70 percent, according to data from Peru's banking association, Asbanc.
Interior Minister Wilfredo Pedraza, who also participated in the meeting, told reporters that Peruvians must learn to be more cautious by using bank transfers or certified checks rather than cash.
"It is fundamental that the banking client, the citizen, try to use the banking system for transferring funds," said Pedraza, according to daily El Comercio. "To carry money… increases the insecurity of everyone."
Carlos Rivera, Asbanc's president, said that more "financial education" is needed. "What is important is that people know how to use the services to avoid being followed by criminals," he said.