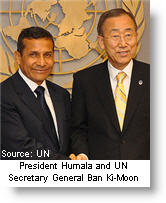 President Ollanta Humala said late Tuesday in New York that he will not seek reelection following his five year term, which he just began less than two months ago.
On Twitter, Humala said: "Not one day more. My oath to Peru and democracy was and is: No to reelection."
Humala's comments followed a television interview on Univision in which host Jorge Ramos asked if Humala would seek reelection.
When Humala referred to his presidential oath and several prior speeches rather than giving a direct answer, Ramos insisted in a direct "yes" or "no", increasing the tension in the interview.
"I have been elected by the Peruvian people for five years and presidents also deserve respect," Humala said. "This type of question gives me the impression that you have some prejudice against me, which I can't accept."
Humala's cabinet chief, Salomon Lerner Ghitis, said the president's response was due to his tiredness, daily El Comercio reported, while Foreign Affairs minister Rafael Roncagliolo considered the Univision questions "impertinent" and "stupid".  Former congressman and Apra stalwart Javier Valle-Riestra considered Humala had been "overly rude."
The interview, which includes Humala's favorable opinion of an independent Palestinian state and that Bolivia must seek its access to the sea with Chile and without any intervention by Peru,  is to be aired on Univision on Sunday.
Humala is in New York this week, where he will be speaking Thursday at the 66th General Assembly of the United Nations. He has also met with various government, banking and business leaders since his arrival Monday night.
The Peruvian Constitution does not allow immediate re-election in the presidency. During the Fujimori administration, Congress amended the constitution to allow President Fujimori a second term. Fujimori then sought a third term on the premise that the "authentic interpretation" of the amendment was that its scope was not retroactive and therefore his second term should be considered his first term under the new Constitution. Following the collapse of his government, Congress reverted to the earlier rule.