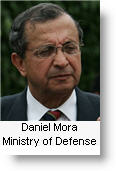 Peru's next Minister of Defense, Daniel Mora, said Thursday that gaining control of the coca growing Apurimac and Ene river valleys, or VRAE, will be a priority for the ministry, state news agency Andina reported.
Mora, a retired general, was appointed by President-elect Ollanta Humala on Thursday to lead the Ministry of Defense.
The VRAE, which includes 31 districts that straddle territory in the departments of Ayacucho, Junin, Huancavelica and Cusco, is Peru's top region for growing coca, the raw material used to make cocaine.
Peru is the world's top producer of coca, according to the United Nations.
The VRAE is also home to remnant groups of the Maoist Shining Path, which led a bloody internal conflict against the Peruvian state during the 1980s and 1990s that resulted in about 70,000 deaths. Today, the Shining Path work as hired guns for drug traffickers and regularly launch deadly attacks on Peruvian police and soldiers in the VRAE.
"We have to find a solution to the Shining Path remnants in the VRAE," said Mora. "I hope we can find a definitive solution to this issue."
Mora also said that the ministry's top priorities will be modernizing the Peruvian military and resolving a salary dispute.
Humala, a 49-year-old former army officer, will be sworn in on July 28 and hold office for a five year term.