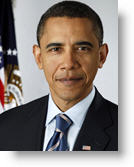 US President Barack Obama called Peruvian President-elect Ollanta Humala on Tuesday to congratulate him on his election victory earlier this month.
Obama said he was interested in strengthening US-Peru ties and advancing collaboration on democratic governance, economic growth, citizen security and other issues, the White House said in a release.
Humala was elected to Peru's highest public office on June 5 and will assume the presidency on July 28.
Humala, a former army officer, also held talks with Bolivian President Evo Morales on Tuesday during a trip to the Andean nation.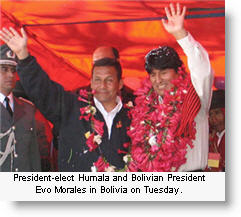 After the meeting, Morales told reporters that Humala's visit gave him "enormous satisfaction."
"For me and for the Bolivian people his presence is a great joy and enormous satisfaction," Morales said, adding: "It is a meeting of two historic peoples."
Humala's trip to Bolivia is part of the second part of a South American tour that has already included visits to Brazil, Uruguay, Argentina and Chile. He is also to visit Ecuador, Colombia and Venezuela before taking office in six weeks.