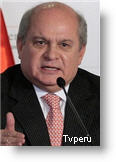 Peruvian Defense Minister Pedro Cateriano will hold talks with his Colombian counterpart to discuss the recent kidnapping of two Peruvians by a Colombian guerrilla group.
On Friday, Colombia's National Liberation Army, ELN, kidnapped five workers from a Canadian mining company. In addition to the Peruvians, the abductees include one Canadian and two Colombians. They are employees of Braeval Mining Corp, which is based in Toronto.
"We hope that this terrible situation is resolved as soon as possible," Cateriano said. Cateriano said Peru is closely monitoring the situation. Peruvian President Ollanta Humala and President Juan Manuel Santos of Colombia have discussed the kidnapping, Cateriano added.
The kidnapping comes as Colombia's government is holding peace talks with the country's biggest insurgency group, the Revolutionary Armed Forces of Colombia, FARC.
Analysts say that the ELN's kidnapping is part of its effort to beef up its profile in order to be invited to the table to participate in the peace talks.