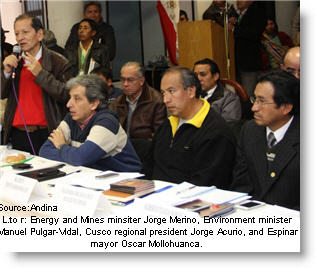 Cabinet ministers and other high-level government officials in Peru reopened talks Thursday with authorities in the southern province of Espinar, where deadly protests against a copper mine were held last month.
Peruvian Environment Minister Manuel Pulgar-Vidal, Mines and Energy Minister Jorge Merino, Minister of Health Alberto Tejada, and other members of President Ollanta Humala's cabinet, met with the mayor of Espinar, Oscar Mollohuanca, as well as the president of the Cusco region, Jorge Acurio, and other local officials.
The meeting follows tense protests, which were led by Mollohuanca, against Xstrata's Tintaya copper mine in Espinar. Two people were killed in confrontations between security forces and demonstrators, resulting in the government declaring a state-of-emergency.
Mollohuanca was temporarily detained over allegations that he used public funds to support the protests, and had supported the use of molotov cocktails. He was taken away from the area to Ica for questioning. Although the arrest and removal are permitted under a state of emergency, they were carried out before the procedures were officially enacted by a judge and therefore illegal.  Mollohuanca claims he is innocent of all charges and that he can prove it.
The meeting on Thursday was to address environmental and social concerns in Espinar, state news agency Andina said.
Participants agreed to hold future meetings in July, Pulgar-Vidal said. He added that the meeting shows the importance of dialogue to resolving social conflicts that have roiled a number of projects in the mining sector.
"Today, we give a message to Peru that through dialogue we can solve the problems," Pulgar-Vidal said.