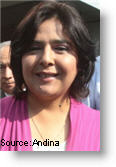 Peru's government plans to spend more than 160 million soles (approximately $57 million) to build 10,000 homes this year in areas that have been hit by the August 2007 earthquake, said Ana Jara, the minister of Women and Vulnerable Populations.
Jara said the houses will be provided to residents in Ica region, where the damage from the quake was most pronounced. They will also be provided to areas that were affected in the neighboring regions of Lima and Huancavelica, state news agency Andina reported.
Cofopri, the government agency in charge of regulating informal property, will provide 10,000 property titles for the new home-owners.
Jara said that the funds to build the houses will be provided to construction companies in charge of the building, and not individuals who were impacted by the quake.
The magnitude 8 earthquake on August 15, 2007 destroyed much of the city of Pisco, located in Ica, and resulted in hundreds of deaths. Corruption and disorganization meant that whole areas were never rebuilt. Four years since the quake, President Ollanta Humala, who took office in July, has said his government will rebuild Ica.