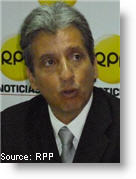 Peruvian Environment Minister Manuel Pulgar-Vidal proposed that nations in the Amazon basin share experiences on confronting illegal mining, which has been blamed for causing serious environmental damage in the world's most bio-diverse rainforests.
"It (illegal mining) is not a problem that is exclusive to Peru, but also countries like Ecuador, Colombia, Bolivia and Brazil," Pulgar-Vidal said, according to state news agency Andina.
"We are going to see how we can exchange experiences to confront this problem," he said.
Pulgar-Vidal was speaking during a summit in Lima of environment ministers from eight South American countries to discuss actions to protect the Amazon rainforest.  The summit is to prepare proposals for Rio+20, the U.N's sustainable development conference to be held in June this year in Rio de Janeiro. 
In addition to Pulgar-Vidal, authorities from Bolivia, Brazil, Colombia, Ecuador, Guyana, Suriname and Venezuela are participating in the two-day summit, that began Tuesday.
Illegal mining is a particularly serious problem in Peru's south-eastern jungle region of Madre de Dios. The activity has led to large swaths of deforestation and contaminated local waterways with mercury.
Efforts by the government to confront the activity have often been faced by stiff and violent opposition from informal and illegal miners.
Recently, three people were killed during protests in Madre de Dios against government decrees that increase penalties against informal and illegal miners.