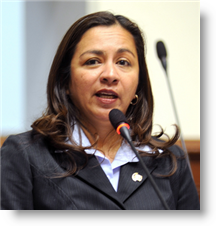 A split within President Ollanta Humala's government emerged this week, as news reports said that police intelligence agents were spying on the country's vice president.
The news of spying on Vice President Marisol Espinoza has created a backlash, forcing President Ollanta Humala and his Prime Minister, Ana Jara, to address the issue.
Both Humala and Jara denied that the order to spy on the vice president, who has had rocky relations with the executive recently, came from the government.
Reports said that officials from the police intelligence office, DINI, were discovered by Espinoza's security, which spotted the police officers outside her home.
Humala said that he "emphatically opposes" spying on Espinoza or other politicians. He said he has instructed a full investigation into the scandal.
"We are the main ones interested in clearing this up," he said. "We are the main ones interested in preventing antidemocratic practices from advancing in our country."
Jara reiterated, on Twitter, that the government does not have a policy of following politicians. "But if there is a faction that has done so in a parallel manner, it will be eradicated."
Espinoza, who is also a Congresswoman for Humala's Nationalist Party, said she was "outraged" by the news of the spying.
She said she "refused" to believe that the spying was ordered from within the government, but called for an "exhaustive investigation."
For some, the issue highlights the divisions within President Humala's government with about 18 months left in his administration.
Influential newspaper El Comercio wrote in an editorial Tuesday that there is a "war of factions" within Peru's government. "The government isn't only divided, but it is also going through an internal confrontation."
Espinoza was a close ally of Humala when he took office in July 2011. But since then, Espinoza, like many others who originally supported Humala, has often questioned aspects of Humala's move to the political right from his leftist stance during the presidential campaign. Most recently, she said a new youth labor law should be revised after protests from students and union members concerned about it curbing labor rights in favor of the private sector.  President Humala has stood firm in his defense of the youth labor law, although Congress is scheduling to debate its repeal or amendment.
Spying on political foes and business competitors has a long history in Peru. Rumors of spying were rife during the military regime of the 1970s, and the system reached a state of the art during the administration of former President Alberto Fujimori who, with his shadowy spy chief Vladimiro Montesinos, set up a network of spies in the 1990s that recorded conversations of political opponents, journalists and businessmen in an effort to discredit or pressure them.
Many of those who participated in the spy programs are believed to have left the government and set up private contracting services after Fujimori's government collapsed 2000 when the corruption practices were revealed.
According to Congressman Daniel Mora of the ruling Nationalist party, some 8,000 intelligence agents lost their jobs when Montesinos' National Intelligence Service was disbanded, and the result is a whole network of services for anyone who wants it.
"For example, in Parliament, there are members of congress who boast of having full details on the private lives of every lawmaker. So, during internal discussions, when someone wants to wipe out an adversary, they bring out the information.  It has become a national sport," said Mora.
The controversial Interior Minister, Daniel Urresti, is blaming former President Alan Garcia of the spying on Espinoza in an attempt to undermine the government.
Several court cases are the result of information made public from private spying services, most famously the Ancash region corruption scandal that includes a surveillance center known as La Centralita, as well as the Business Track spying case which led to the arrest and conviction of  members of the Apra party during Alan Garcia's administration, caught on tape planning a fixed bidding for an oil block concession.
In 2013, an adulterated wiretapping attempted unsuccessfully to discredit the Minister of Defense, Pedro Cateriano, while in 2010 a tapped phone conversation helped derail PPC leader Lourdes Flores' municipal election campaign.