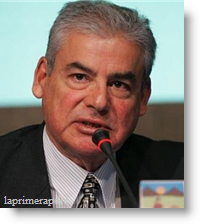 Premier Cesar Villanueva, who took office three weeks ago, said he will be evaluating changes to the government's cabinet, daily Peru.21 reported.
Villanueva said any changes will be announced "in due course."
"It wouldn't be very responsible to announce what changes I'm going to make tomorrow or later," he said.
President Ollanta Humala appointed Villanueva as his cabinet chief at the end of October following the resignation of Juan Jimenez. Villanueva's appointment received a vote of confidence this week from Congress. He is the fourth premier since Humala took office in July 2011.
Besides Villanueva, the most recent cabinet change has been in the Interior Ministry. Wilfredo Pedraza resigned last week following a political scandal and was replaced this week by Walter Alban, a former People's Ombudsman who was most recently Peru's representative to the Organization of American States in Washington, D.C.
There have been rumors for several months that other important cabinet members could also leave, including speculation that Finance Minister Luis Miguel Castilla will step down. Local media has reported that Castilla has plans to take a job at the World Bank after spending more than two years at the Finance Ministry.
Castilla, however, told reporters in September that he had no plans to leave the cabinet.