Archaeologists in Cusco announced a new discovery this week: an Inca canal where servants used to get water for the head of the empire during the Inti Raymi celebration. Pictures of the canal were published by newspaper El Comercio.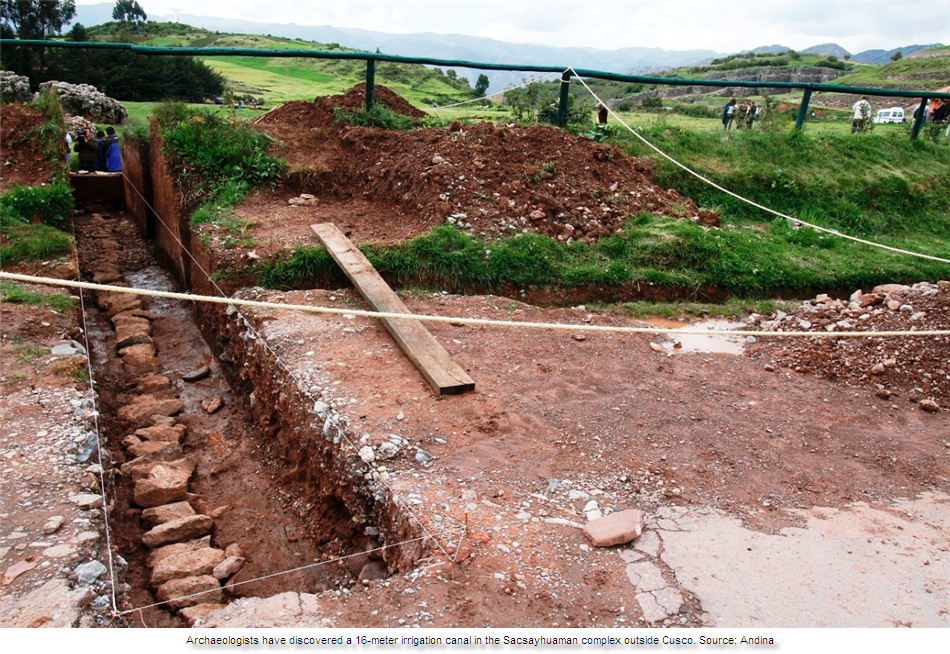 The canal was uncovered in the Sacsayhuaman archaeological complex, above the city of Cusco. Two months ago, archaeologists began to excavate an area near the Calispuquio sector of Sacsayhuaman when they noticed water filtering through the ground. What they uncovered was a 16-meter long canal that measures 15 centimeters wide and a meter deep.
The canal is in the visitors parking and access area of the archaeological park, but it has not been damaged by vehicles because it lies one and a half meters underground.  Park management are planning the immediate relocation of a visitors' access area.
The Inca canal was believed to have transported water from a spring in the Rinconada district, on the northern edge of Sacsayhuaman.
The head of the Sacsayhuaman park, Oscar Montufar, said that the canal was used by servants to get water for the Inca during Inti Raymi, the empire's most important religious ceremony in which it paid homage to Inti, the all-important sun god.  It was also used to fill the baths for the young winners of the Warachicuy initiation ceremony.
Montufar said the canal is mentioned in the chronicles by Spaniard Juan Polo de Ondegardo y Zárate, published in 1571, and its use was continued during Colonial times.