Authorities in Peru's Cusco region are keeping a close eye on the water levels of the Urubamba River, which are threatening to impact services to the Inca citadel of Machu Picchu, according to a local media report.
The national weather service Senamhi's director in Cusco, Zenon Huaman, said that heavy rains in the Sacred Valley during the last 20 days has increased the water level of the Urubamba River. The river flows through the Sacred Valley and past Machu Picchu.
Huaman said that if the rains continue, authorities will be forced to declare a "red alert" for the river basin, which would require them to recommend the suspension of train services between Ollantaytambo and Machu Picchu.
He said the recommendation could come as early as next week, according to daily La Republica.
Passengers  are currently reaching Machu Picchu by traveling via road as far as Ollantaytambo and boarding the train there. PeruRail earlier this month suspended direct train service from Cusco's Poroy Station to Machu Picchu through February as a precautionary measure, but then extended it until May after torrential rains damaged a portion of the track.
A continuation of rains would lead to flooding and landslides in the mountainous region, Huaman said.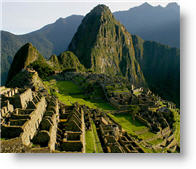 "We are seeing unusual weather, which is going to create problems," he said.
The former Inca city of Machu Picchu is Peru's top tourist attraction, receiving tens of thousands of tourists every month. In 2012, more than 1 million tourists visited the site, the highest annual rate ever.
Heavy rains have caused challenges for visitors in the past. In 2010, tourists were temporarily stranded at Aguas Calientes, the town below Machu Picchu, when heavy rains flooded the Urubamba River and washed out the rail line to the city of Cusco. The damage forced the closure of Machu Picchu for two months.
Earlier this month, the switchback "Hiram Bingham" road that leads up to Machu Picchu from Aguas Calientes was blocked by a giant boulder due to a landslide caused by rains. Tourists have continued to visit the site by hiking approximately 10 minutes up a foot path to Machu Picchu, after being dropped off at the point where the road is blocked.