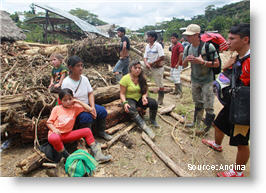 Peru's National Civil Defense Institute on Monday revised the number of fatalities from a landslide in a jungle town last week, state news agency Andina reported.
The civil defense institute, Indeci, said that 13 people were killed in the landslide near Tarapoto, up from a previous estimate of 10.
The latest figures show that 49 people were affected, while three others were injured and 13 houses destroyed. Some 600 meters of pipes were also destroyed as a result of the mudslide.
The landslide occurred last Wednesday in the town of Nuevo Porvenir, located 60 km from the city of Tarapoto on the eastern slopes of the Andean mountains in San Martin region.The landslide was provoked by heavy rains.
Authorities had sent aid to the town, while high-ranking government officials, including President Ollanta Humala, also visited following the landslide area. Specialists have also been looking at relocating the town to a safer area.