By Rick Vecchio ✐
Peruvian Times Contributing Editor ☄
Does a Creole precursor to the 'Original Pisco Sour' recipe ruin a nostalgic narrative, or simply add a level of complexity to a great tale of expat American ingenuity?
In little more than a week, people across Peru will be mixing up thousands of liters of refreshing, easy-to-drink Pisco Sours, the country's beloved national cocktail.
The first Saturday of February is National Pisco Day, a commemorative celebration of the distilled grape spirit that originated in Peru in the early 17th century.

It is also a day of tribute to an expat American, Victor V. Morris, who is generally acknowledged as the inventor of the delectable combination of pisco, lime juice, sugar syrup and egg white.
According to mixology "lore" — as yet there is no published documentation to corroborate it as historical fact — Morris invented the Pisco Sour on July 28, 1904. It is said he substituted pisco for whiskey and served the new sour cocktail to a crowd gathered for the inaugural opening of Cerro de Pasco railway, of which he was an employee at the time.
It is well-established that in 1916, he opened Morris' Bar in downtown Lima — a popular haunt for a who's who of archaeologists, aviators, diplomats, politicians and journalists (one of whom was newspaperman C.N. Griffis, editor of the West Coast Leader and founder of  the Andean Air Mail and PERUVIAN TIMES).
It was from the Morris Bar that the cocktail grew in popularity and started to appear in competing Lima establishments and in far-flung saloons as far away as Chile and Argentina.
The cocktail evolved into an object of national pride — as Peruvian as Machu Picchu — and the country has expressed its gratitude to Morris for his contribution. A monument was erected in 2009 in his honor as the creator of the Pisco Sour.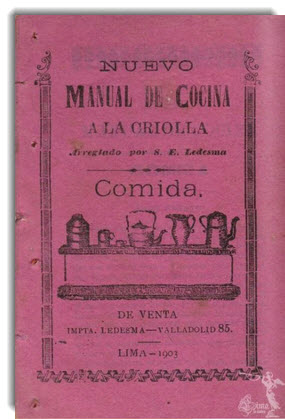 But was he really?
The Pisco Trail blog published a story recently about a discovery that calls into question our understanding of the Pisco Sour and its humble beginnings.
A cookbook published in 1903 — a year before Morris' arrival to Peru — has been found with a "Cocktail" recipe containing most of the basic ingredients of what we know and love today as the classic Pisco Sour.
"An egg white, a glass of pisco, a teaspoon of fine sugar and a few drops of lime juice to taste; this will open the appetite.
"Up to three glasses can be made with one egg white and a heaping teaspoon of fine sugar, adding the rest of the ingredients as needed for each glass. All this is mixed in a cocktail shaker or punch bowl until a little punch forms."
No ice and no Angostura bitters.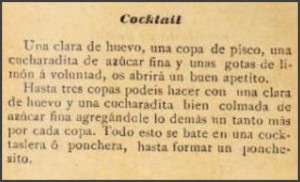 Nonetheless, in the estimation of Peruvian chef and pisco connoisseur Nico Vera, who writes the Pisco Trail blog, the old recipe "suggests that the origin of the Pisco Sour may be a traditional creole cocktail made in Lima over 100 years ago."
Is Victor V. Morris still the inventor?
I can't help but be reminded of a similar, albeit vastly more significant, Peruvian controversy that's been debated for the better part of the last century.
It concerns another American, Yale professor Hiram Bingham, and the historical question of whether he deserves credit for the scientific "discovery" of Machu Picchu.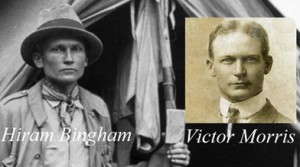 When Bingham first arrived at Machu Picchu in 1911, it was overgrown with thick jungle vegetation. But the site was still very much inhabited by local peasants, many of whom worked for Mariano Ignacio Ferro, the owner of a vast hacienda that encompassed the Inca ruins.
Bingham found carved onto the stone walls a date — July 14, 1901 — along with the names of Gavino Chávez, Enrique Palma, and Agustín Lizárraga.
It is all documented proof that Bingham was not the first outsider to explore Machu Picchu, and that the lost citadel of the Inca was never really lost.

But who can deny Bingham credit for bringing Machu Picchu to the world's attention and putting it on the path to its current iconic status?
What of Bingham's fellow American saloon owner in Lima?
The earliest known advertising campaign for the Pisco Sour was published by Morris, himself, according to historian Guillermo L. Toro-Lira. It was a July 1924 ad for Morris' Bar in the South Pacific Mail, a weekly magazine in Valparaiso, Chile,  "published by Nelson Rounsevell, a friend of Morris since the days they worked together in the mines of Cerro de Pasco."
The bar "has been noted for many years for its 'Pisco Sours'," the ad stated. 
Morris also advertised weekly in The West Coast Leader in Lima but the ads neither in 1924 or earlier mention Pisco Sours.
The Morris Bar patron registry, found by his grandson, Michael, a few years ago in a wooden trunk of family possessions, indicates that Morris' recipe for the Pisco Sour went through an evolutionary process of improvement. In the registry, an "American frequent traveler wrote 'the Pisco Sours keep getting better every trip,'" according to Toro-Lira's 2009 article Clarifying the legends from the history of the Pisco Sour.
There is no doubt then that Morris was the first to serve, promote and perfect what today is known as the Pisco Sour.
So, again, even if there was something very similar and pre-existing, who can deny Victor Vaughen Morris credit for bringing the Pisco Sour to the world's attention and putting Peru's national cocktail on the path to its current iconic status?
Something to ponder on the first Saturday of February while raising a glass to toast Peru's signature cocktail.
---
Rick Vecchio is also director of marketing and development for Fertur Peru Travel, which is owned by his wife, Siduith Ferrer, and is a commercial sponsor of Andean Air Mail & PERUVIAN TIMES. You can read more of his articles on the Peruvian Travel Trends blog.