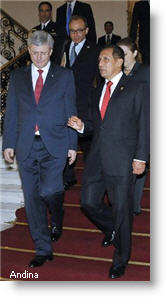 Canada has pledged to provide support to Peru in developing its natural resources and improving education, Canadian Prime Minister Stephen Harper said in Lima on Wednesday.
Harper met with Peru's President Ollanta Humala in his first state visit to Peru.
While Canadian companies have a strong presence in Peru, particularly in its mining sector, the two countries have been looking to increase ties over recent years. In 2008, Canada and Peru signed a bilateral trade agreement. Since coming into force, trade has increased about 70 percent between Peru and Canada, Harper said.
In addition, Canada has named Peru as a focus country for development cooperation, providing the Andean country with support totaling $28 million in 2011 to 2012.
"Canada is committed to working with countries in the Americas to support development through sustainable economic growth and improved education," Harper said at a joint press conference following their meeting.
"The initiatives announced today will help Peru maximize the benefits of its natural resources and ensure that Peruvian children receive the education they need to succeed," he added.
Humala said that the two countries also discussed the environment, promoting infrastructure development in Peru, and tackling security issues, especially drug trafficking and terrorism.
While Peru put on a nice show for Harper, who arrived at the presidential palace in a dark SUV escorted by dozens of Peruvian soldiers on horseback, his visit was largely overshadowed by a senate expense scandal back in Ottawa. It was revealed last week that Harper's then chief of staff gave a popular Conservative senator about $90,000 to pay back housing expenses that he wrongfully claimed. The revelation has raised questions about Harper's knowledge of the payment, which is being investigated for violating ethical and legal rules.
While Harper briefly addressed the issue on Tuesday before leaving for South America, a press conference at Peru's presidential palace was the first opportunity journalists had to question the prime minister.
Harper told reporters that he wasn't aware of the payment until it came to light in the media and that he wouldn't have signed off on it if he had been aware. "I'm very sorry that this has occurred," he said. "I'm not only sorry, I've been through the range of emotions. I'm sorry, I'm frustrated, I'm extremely angry about it."