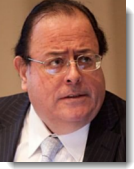 Central Reserve Bank governor Julio Velarde lashed out at Congress' decision to backtrack on its election of new Central Bank directors, calling it "unjust."
After almost a two-year delay, Congress elected three new Central Bank directors last week to join the monetary authority's board, which includes a total of seven members.
However, lawmakers decided on Monday to annul the appointments, since they were made in a broader election that also included new appointees to the top court, the Constitutional Tribunal, and the human rights office, the Defensoria del Pueblo.
The decision to annul the election is due to a wave of criticism that Congress has faced for appointing questionable individuals to the posts in the Court and the Defensoria del Pueblo. The Central Bank appointments, however, were widely supported by the private sector and most political parties, yet the fact that they were bundled in with the other appointments may mean a new election might be required.
Velarde, a well-respected economist, said the decision to annul the appointment could hurt Peru's credit rating as it weakens the Central Bank.
"It is an institutional gap that I think will weaken us in terms of credit rating," Velarde said in comments reported by financial daily Gestion.
He called the Central Bank appointees – Francisco Gonzales, Drago Kisic and Gustavo Yamada – strong professionals "with very high technical skills and a great moral trajectory."
"I know all of the candidates that Congress has elected since the 1979 Constitution and these are probably the best until now," he said.  The most recent appointment of directors before this was in 2011, when the people were selected by the Executive and ratified by Congress.