China's top political advisor, Jia Qinglin, met President Alan Garcia Monday at the Government Palace, during an official visit to Peru with a trade mission of more than 30 Chinese government officials and 100 business investors.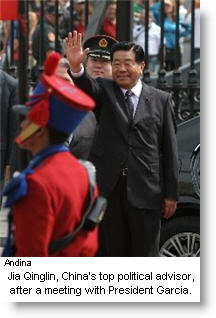 Jia's visit continued with the signing of agreements and a luncheon at the palace. Jia is chairman of the national committee of the Chinese People's Political Consultative Conference. 
Part of the activities included an investment and business trading forum, organized by the state private investment promotion institution, ProInversion.