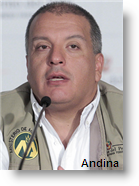 Coffee growers in Peru have lifted their protests after reaching an agreement with the government to help them respond to the coffee leaf rust fungus that is damaging their crops.
The farmers had been on strike for four days, and had blocked parts of the Carretera Central highway that connects the commercial central Andes to the coast and Lima . There had been some skirmishes with police in the mining town of La Oroya.
The agreement came after various hours of talks between Agriculture Minister Milton von Hesse and the representative of the coffee growers, Isaac Porras, daily El Comercio reported. The head of Peru's office to prevent social conflicts, Vladimiro Huaroc, was also present at the meeting.
Von Hesse said that the government agreed to pay off some of the coffee growers' debt, which was due to the coffee rust outbreak, and to provide them with credit to renew their plantations with strains that are more resistant to the fungus.
"We will finance what is necessary," Von Hesse said. "For the moment, we've provided 100 million soles ($35 million)." The ministry is working with commercial banks to soften the loan terms of existing debts held by the small-hold coffee growers.
In answer to criticism of populist policies, Von Hesse argued that coffee is the country's main crop, with 400,000 hectares, and $1 billion in export income.   "But also, this crop has allowed us to win" in the battle against drug trafficking in the montane forest areas where coffee is grown.
About a third of Peru's coffee production will be lost this year due to coffee rust, known in South America as roya. The fungus has affected crops in other Latin American coffee growing nations, including those in Central America, Mexico and Colombia.