Peru's Foreign Commerce Society, Comex Peru, said Sunday exports from the Andean country totalled $2.24 billion in January, a 37.9 percent increase over the same month in 2009.
The export association said the growth was driven by strong results from Peru's primary exports, which increased by 56 percent to $1.8 billion, state news agency Andina reported.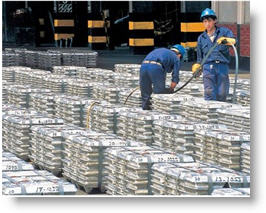 Comex Peru said mineral exports, which consistently account for a significant portion of the country's export revenues, increased by 54.9 percent. The value of gold exports was up 24.6 percent, totalling $577 million. Sixty-two percent of Peruvian gold was imported by Switzerland and 27 percent was shipped to Canada.
The value of copper and copper concentrate exports totalled $320 million in January, up 133.3 percent. Japan was the main importer at 34 percent, followed by China at 23 percent.
Fishing industry exports grew by 23.2 percent, driven by an increase in the price for fishmeal. Despite a decrease in the volume of fishmeal sent abroad, the value of its exports totalled $129 million, up 41.5 percent from January 2009.
Crude oil and petroleum product exports grew by 145.3 percent. That sector's exports were driven by fuel oil exports, which totalled $35 million, up 550 percent.
Peru's non-traditional exports fell seven percent in January to $441 million, Comex Peru said. Textile exports, for example, fell 17.3 percent to $85.7 million. Twenty-eight percent of the non-traditional exports were sent to the United States.
Peruvian exports declined by 14 percent in 2009 due to a decrease in international demand during the global financial crisis. The Ministry of Foreign Trade and Tourism said earlier this month they expect Peru's exports this year will return to 2008 levels.
Peru's major trading partners are the U.S., China, European Union, Switzerland, Canada, and Japan.