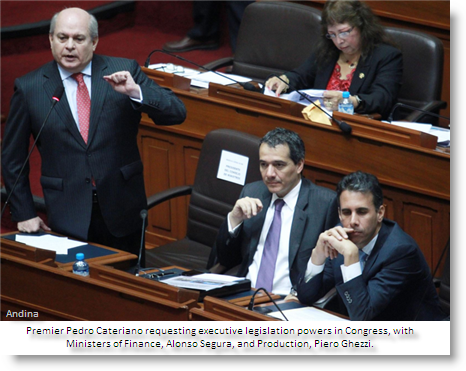 Premier Pedro Cateriano and his cabinet are drawing up a series of bills  to boost the economy and to crack down on crime, following Congress' approval to allow the Executive special legislative powers for 90 days.
Congress is allowing the Executive 90 days, as opposed to the 120 days requested, to write legislation on five of nine issues presented.
Last week, the opposition had refused to allow Cateriano to make his case before Congress, demanding that lawmakers should first debate the ousting of congressman Alejandro Yovera, found guilty by a civil court of lying in his resume. Yovera was elected in 2011 as a member of the Fujimorista party Fuerza Popular but more recently was a supporter of the ruling party.  Yovera was ousted and lawmakers returned to the agenda at hand.
The Executive is to present bills on incentives to boost the economy, with tools to foster public and private investment, including the system of tax deductions through investment in public works. Production laws are to focus on more industrial parks, boosting fish farming projects for human consumption, and developing productive ecosystems, i.e. sustainable use of biodiversity.  One major piece of legislation will be geared to bolstering the housing market through leasing.
In the field of crime and citizen safety, the Executive is to write legislation on organized crime, which covers a broad spectrum from delinquency and armed robbery to extortion, hired gunmen, drug traffic, land and real estate trafficking, and the illegal timber trade.
Interior Minister Jose Luis Perez Guadalupe said the legislation his portfolio is writing up will allow the government to tackle an increase in contract killings and extortions that have become a major concern in certain areas of both Lima and regions such as Ancash and the north coast..
Perez Guadalupe said that one of the measures will seek to increase prison penalties for contract killings, and will also create new legislation aimed at those who hire minors to carry out murders.
"Fifteen years ago we began to import hit-men and now we have young hit-men," Perez Guadalupe said, according to daily El Comercio. "We can't continue with the norms for a reality that no longer exists."
The police are to be better equipped technically to improve monitoring in vulnerable areas.
"We'll put together the legal framework and they will do the operational part, updating their equipment and locating the [pre-paid] cell phones," Perez Guadalupe said.   The phone companies are already working with the government to trace ownership of all pre-paid cell phones.
Police have made little headway in more than 15 years on extortions carried out by gangs on construction companies, while recent incidents shed light on extortion and protection rackets that target private schools in middle to lower-income areas of Lima.  Most of the victims of extortion are small business owners who are vulnerable due to the lack of security.
Last month, the police sent in an extra 400 police to guard schools in San Juan de Lurigancho, a populous district in eastern Lima, after two separate attacks on schools left two security guards dead at one center and the principal dead at another.
Opinion polls show crime to be one of the main concerns among Peruvians, and the issue is expected to be an important part of next year's presidential campaign.