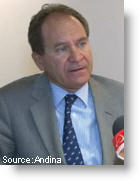 The European Union is to provide support to Peru to combat money laundering from the illicit drug trade, the head of the EU's delegation in Peru, Hans Allden, said.
"It is a clear priority of the European Union to reinforce the ambitions of Peru and other countries (in Latin America) regarding money laundering, in a wider context of the battles against international crime," state news agency Andina reported Allden as saying.
Allden added that the EU would support Peru's implementation of its 2012 to 2016 national plan against drug trafficking, and hoped that the plan would have measureable results. He said Peru's plan to combat drug traffic from several fronts at the same time was ambitious, implementing efforts to combat money laundering at the same time as coca leaf eradication efforts and controls on chemical supplies in the coca-growing areas.
This week Ricardo Soberon, head of Peru's drug strategy agency, Devida, made a presentation to 14 EU ambassadors regarding the plan and Peru's search to gain active cooperation from a series of partners —including the EU and Brazil as well as the U.S.— to stem the illegal drug trade.   
Peru is the world's biggest producer of cocaine, according to the U.S. Drug Enforcement Administration.
The global cocaine business has an estimated worth of about $85 billion. It is forecast that about 15 percent of those funds stay in the producer countries, which also include Bolivia and Colombia. The United Nations estimates that the drug trade in Peru accounts for about 6 percent of the country's GDP.
About 80 percent of the funds that are laundered in Peru come from the drug trade, while 5 percent come from tax fraud.