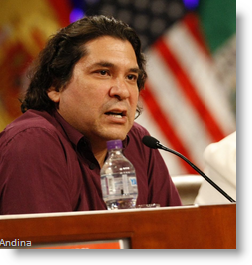 Celebrity chef Gaston Acurio said this week he would only run for president in 2016 if a "criminal" or "future dictator" was about to be elected head of state, Canal N reported.
Acurio, considered one of the most influential businessmen in Peru, has so far ruled out running for office in 2016, despite frequent calls from some political corners that he do so. Acurio's father was a prominent senator and former minister in Fernando Belaunde Terry's administration, during the 1960s and the early 1980s.
However, instead of entering law and politics, as his father wished, Acurio decided to study cooking. Today, he is considered the ambassador of Peruvian cuisine, leading its launch onto the world stage.  He has a string of restaurants in key cities around the world, several published cookbooks, and the top international awards, and he is also generous in his praise of his colleagues' successes.
But a large part of Acurio's focus on Peruvian ingredients and their sources has, in fact, also had a deep political impact — his drive to protect small peasant farmers by bringing them to the same table as international chefs, opening a cooking school for underprivileged young men and women, providing international scholarships for those students, and helping start vegetable gardens at schools.  He has publicly defended the government's decision to declare a moratorium on genetically-modified seeds and organisms as the banner of Peru's food biodiversity,  and with other colleagues created the non-profit Peruvian Gastronomy Society which started the now famous annual Mistura food fair, which holds inclusion as one of its main standards.
Canal N reported Acurio saying that he believes the best way for a chef to support the political process is to get behind a democratic candidate who is a professional politician in a scenario like Peru's where the political institutions are weak.
"It doesn't help that a chef attempt to be the shining light, for the strength of the institutions," he said.
"I think that the chef who has a political influence should support an honest, capable politician who is able to lead this institutional transformation," he said. "I think that's the best path at this moment."
Gaston added, however, that he would consider running under very special circumstances. "Unless the candidate is a criminal, a future dictator, a future Gadafi about to take power and people say the only way to confront him is you, then yes, it would be a historical responsibility that I would take on."
President Ollanta Humala, elected in 2011, is constitutionally barred from running for a second, consecutive term in 2016.