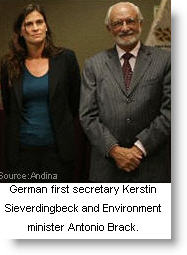 Peru and Germany have signed a joint strategy agreement in which Germany will contribute approximately 60 million euros for forestry conservation, state news agency Andina reported.
The four-year strategy is for Sustainable Rural Development – Management of Natural Resources and Climate Change, which covers a series of projects operated by the Ministry of the Environment to protect forests and protected areas.
Environment minister Antonio Brack said the funding will ensure the continuation of projects already underway, in which the ministry will be working with indigenous communities near the protected areas to train them as park rangers.  Most of the projects are in Ayacucho, Huancavelica, Apurimac and Junin, under threat from increased coca crops as well as deforestation due to mining and farming.
According to Kerstin Sieverdingbeck, first secretary at the German Embassy, "The strategy aims to maintain and rescue this country's biodiversity, one of the largest on the planet, and it is extremely important not only for Peru but for all humanity."
She added that German technical cooperation is particularly important in alleviating poverty in rural areas, "because if we don't improve the living conditions of the people there, in the end they won't have any other recourse but to destroy the basis of their lives, which is nature."
The agreement was also signed by Carlos Pando, the executive director of APCI, which oversees all international cooperation funds in Peru.