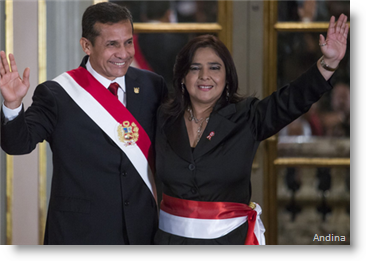 President Ollanta Humala appointed a new Premier on Tuesday, his sixth cabinet chief since taking office three years ago.
In a ceremony late Tuesday, Humala installed his former Labor minister, Ana Jara, to succeed Rene Cornejo, who headed the cabinet for barely four months until his resignation on Monday night.
Humala also appointed to his cabinet Congressman Fredy Otarola, to succeed Jara in the Labor Ministry. Otarola has served as the president of Congress in this past term.
The sudden change came as a result of a build-up of allegations, and a report on Sunday by television program Cuarto Poder that a close adviser to Premier Cornejo was trying to gather information that would damage the reputation of an opposition politician.
Victor Andres Garcia-Belaunde , of the Accion Popular party, had reportedly become a target of Cornejo's adviser after he filed complaints with the State Prosecutor's Office regarding the Premier's alleged links to a company that had won State contracts.  Garcia-Belaunde's allegations had been building up since Premier Cornejo was sworn in, in April, and came to a head in the past week while President Humala was still in Mexico at the end of a series of official visits abroad.  Cornejo fired the adviser and called Garcia-Belaunde to apologize, but the politician was unsatisfied.
Jara, meanwhile, is the first member of the ruling Gana Peru party to head the cabinet.  A close ally and enthusiastic supporter of the President and the first lady, Nadine Heredia, Jara is widely considered to be a consensus builder.
An Evangelical Protestant, Jara has not taken an oath to the office but instead made a promise to serve the country. Elected to Congress in 2011, she first served in the cabinet as Minister for Women and Vulnerable Populations, a post that proved a sharp but brief learning curve to keep her own opinions in check and build consensus. Early this year she became Labor Minister, a post that has required lengthy negotiations over state medical strikes.
Beatriz Merino, who served in the Toledo administration as Peru's first female Premier, believes Jara has the right leadership qualities for the job and will be successful in creating consensus. "She is transparent and with moral principles," Merino added.
"Jara has the leadership qualities to build bridges with all sectors in order to guarantee the country's stability," Alfonso Garcia-Miró, president of the country's largest private business federation, Confiep, told Andina news agency.