Lima's Mayor Susana Villaran is to launch her re-election campaign on Thursday, according to daily Peru.21.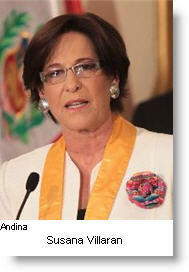 Villaran, a center-left politician, is the first woman to be elected mayor of Lima, which is considered the second-most important elected post in the Andean country.
Villaran took office in 2011 after a surprise victory in the municipal election that saw her surge ahead of former presidential candidate Lourdes Flores in the final weeks of the campaign.
However, since taking office, Villaran has faced an onslaught of attacks by political opponents, including supporters of her predecessor, Luis Castañeda. Villaran had been highly critical of Castañeda's administrations and her government had undertaken audits of municipal works in order to detect irregularities, resulting in a report that has led to several indictments of Castañeda assistants in a fraud case known as Comunicore.
A campaign against Villaran, plus difficulties in advancing municipal works and a perception that crime and traffic in Lima has not improved, led to a referendum last year to recall her from office.
Shortly after the referendum was called, opinion polls showed Villaran could possibly be booted from office, but a strong campaign by her supporters led to the mayor defeating the recall vote.
Despite surviving the vote, Villaran has continued to have low public approval ratings. According to a Datum poll cited by Peru.21, only 7 percent of the electorate said they would vote for Villaran again for mayor of Lima.
Still, Villaran's Fuerza Social political party said they are confident that she would win a re-election. "We are absolutely sure that Susana Villaran has a strong possibility to win," said Sigifredo Velasquez, the president of Fuerza Social.
"We believe that the results in the polls will reverse like they did in the 2010 election, where she started out with 1 percent and later won," Velasquez added.
The Fuerza Social party said they will launch Villaran's re-election campaign in order to confront an expected bid for office again by Castañeda, who would likely be the favorite to win the municipal election.