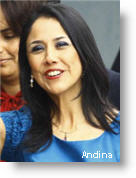 The head of Peru's National Elections Board, Francisco Tavara, said the Constitution does not bar First Lady Nadine Heredia from running for president in 2016.
Heredia has held a high-profile position advising her husband, President Ollanta Humala, since he took office last year. Humala and Heredia cofounded Peru's Nationalist Party, and Heredia was by Humala's side throughout his presidential campaign in 2011 and in the previous run in 2008.   She holds a masters degree in sociology and completed doctoral studies in political science at the Sorbonne University when Ollanta Humala was military attache to the Peruvian embassy in Paris. Humala also completed doctoral studies at the Sorbonne, and has a masters degree in political science from Peru's Catholic University.
Some political analysts and opponents of Humala have said that Heredia has too much influence over the government and cabinet members. There has been speculation that she would like to run for president in 2016, as President Humala is barred by the Constitution from running for a consecutive term in office.
Analysts have disagreed whether Heredia would also be prevented by the Constitution from running, but Tavara said in comments reported by local media that the Constitution would not block her from doing so.
"The Constitution doesn't prohibit it," he said, according to RPP radio. "There is a lower level norm, but that will have to be looked at it at the appropiate time."
According to a recent survey by pollster Ipsos-Apoyo, Heredia had an approval rating of 59 percent, compared to 43 percent for Humala.