A pipeline that transports oil out of Peru's Pacaya Samiria National Reserve ruptured recently, spilling crude into the country's largest protected area, a biologically-diverse hotspot, according to an indigenous organization.
The spill occurred between Km. 7 and 8 of the pipeline that transports crude from Block 8x, which is operated by Argentine oil company Pluspetrol Norte, according to Acodecospat, an indigenous federation that represents Cocama-Cocamilla communities in the Marañon river basin.
The story was reported by newspaper La Republica and the blog LaMula.pe, which published some photos taken on December 4.  The reports said that the spill occurred "recently," but didn't provide an exact date. They also didn't specify how big the spill was.
Block 8x is a small concession where oil has been exploited since the 1970s, originally by state-owned Petroperu. Pluspetrol took over operations in 1996, when the government sold off much of Petroperu's assets to private firms.
The block is located on the northern section of the Pacaya Samiria reserve, an exceptional wildlife area that became a reserve  in 1982. The reserve covers an area of more than 20,000 square kilometers, making it the largest reserve in Peru.
Oil spills at Block 8X have occurred recently. In July, daily El Comercio reported a spill from the pipeline.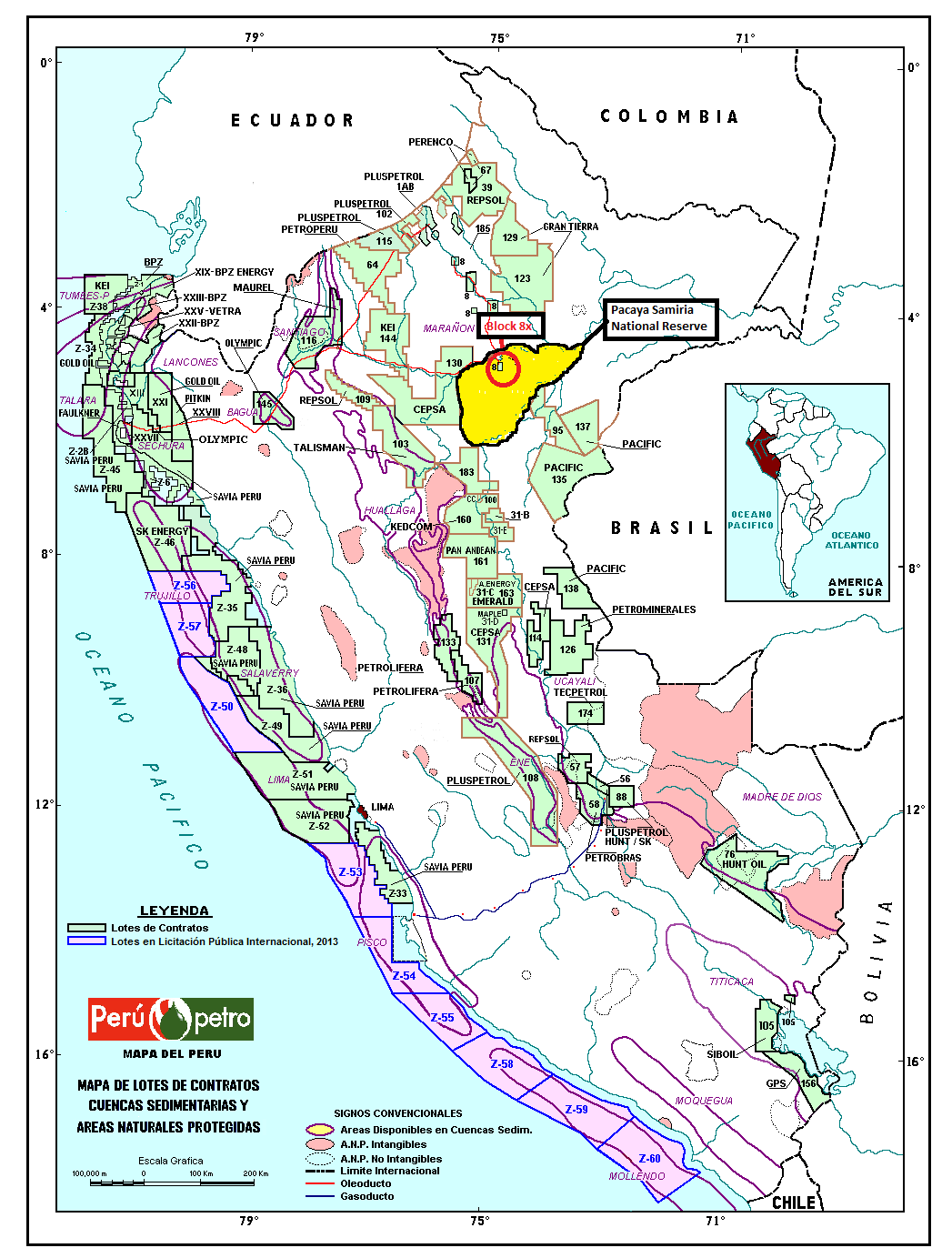 The contamination has caused backlash from local communities that have been affected by the high level of toxic metals. In September, the president of Acodecospat, Alfonso Lopez, was reported saying: "All those in favor of the extractive industries should come live with us. They should drink the water we drink, breathe the air we breathe, come live in our communities, and feel the suffering that we feel. They should eat the fruit grown in our sick and contaminated mother earth. "
Last week, the United Nations' Special Rapporteur on Indigenous Rights visited Peru's northern Amazon rainforest, where several other oil operations have been blamed for causing pollution. James Anaya traveled to Block 192, formerly called Block 1AB, also operated by Pluspetrol.
Last month, environmental regulator OEFA fined the Argentine company $7.15 million for contamination and the disappearance of a small lake in the area.
After his visit to the zone, Anaya said that the indigenous people in the area have suffered "devastating consequences" as a result of hydrocarbons activity.
Pluspetrol denied being responsible for contamination at Block 192. The company hasn't posted a statement on its website regarding the latest spill from Block 8x.