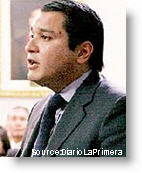 Alfredo Sanchez Miranda, a member of the well-known Sanchez-Paredes family, said he will appeal the U.S. government's seizure of funds of a family-owned gold mining company in Peru linked to drug trafficking.
The Manhattan U.S. Attorney's office said last week that it seized more than $31 million from nine U.S. bank accounts with links to the Sanchez-Paredes family.
Manhattan U.S. Attorney Preet Bharara said seizure warrants were issued in September 2012 for the American bank accounts that were used by members of the Sanchez-Paredes family to launder proceeds from cocaine trafficking.
Authorities believe the family has used mining companies, farms, real estate investments, transportation firms and others to launder profits from drug trafficking. The Peruvian Attorney General's office pointed to two mining companies owned by the family, Compañía Minera Aurifera Santa Rosa SA, known as Comarsa, and Compañía Minera San Simon, which are believed to be used as fronts in manufacturing cocaine.
Sanchez Miranda gave a press conference this week denying a connection between Comarsa and the drug trade and said he would appeal the seizures of the company's funds in the U.S. The company's lawyer, Michael Socarras, said the prosecutor's case "is unbelievable from all points of view," daily La Republica reported.
The allegations against Comarsa point to its use of calcium oxide, which is used to mine gold and to manufacture cocaine. In 2007, Peruvian authorities confiscated 125 tons of calcium oxide. The calcium oxide was bought by Comarsa and San Simon, but authorities found that Comarsa's calcium oxide purchases exceeded the amount required in gold mining.
"This suggests that Comarsa is not actually involved in the business of mining gold, but rather in the business of producing cocaine," the Attorney General's office said. "Other companies managed by the Sanchez-Paredes DTO [drug trafficking organization] appear to be nothing more than shell companies, created for the sole purpose of laundering drug money."
The Sanchez-Paredes family is led by the patriarch Manuel Sanchez Paredes, uncle of Alfredo Sanchez Miranda, and has been investigated for money laundering and drug trafficking for more than two decades.  In 1987, a brother to Manuel was murdered in Mexico allegedly in a drug-related power struggle. 
In an interview with magazine Caretas, Sanchez Miranda has tried to distance himself from his uncle and other members of the Sanchez-Paredes clan. "In every family there are good people and bad people," he said.
On Friday, newspaper El Comercio reported that the United States has revoked the visas of Manuel Sanchez Paredes and his six children.