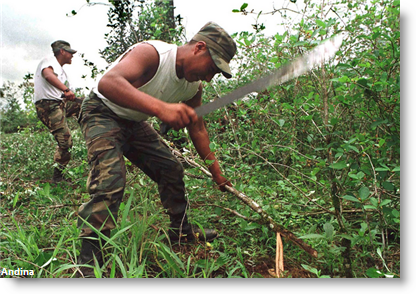 Peru's government eradicated a record 31,205 hectares of coca crops in 2014, government officials say, helping the Andean country to stem the production of almost 250 tons of cocaine.
Juan Zarate, the head of Corah, the government agency that carries out the eradication program, said that coca crops were forcefully destroyed in the regions of Pasco, Huanuco, San Martin, Ucayali and Loreto this year.  The labor-intensive eradication involves the manual removal of coca bushes from their roots across the hillsides of montane forest.
"We confirmed that each hectare had more than 34,000 coca bushes, which shows the intention of drug traffickers to increase production," Zarate said, according to state news agency Andina.
Zarate said that workers from Corah also found 103 cocaine laboratories during their eradication work, highlighting the "connection between illegal plantations and drug trafficking."
"The eradication of those illegal crops constitutes an important part in the prevention of organized crime and the production of illegal drugs," he said. "With these crops, they would have been able to produce 70,000 tons of dry coca leaf."
Peru fulfilled its aim to increase eradication this year to 30,000 hectares, up from about 24,000 hectares last year, which was also a record.
Eradication, however, has not been undertaken in Peru's new top coca growing region, the south central valleys of the Mantaro, Apurimac and Ene Rivers, known strategically as the VRAEM, due to security concerns. The government had initially planned to include the VRAEM this year, but changed its strategy there in favor of a program to encourage voluntary substitution of coca crops, due to concerns about angering coca growers and increasing the conflict with remnants of the Shining Path insurgents, who are fully involved in the drug trade, providing security for growers and traffickers.