A forensic team last week in Ayacucho unearthed the bodies of 25 schoolchildren and five adults, buried 26 years ago in three mass graves in the village of Umasi, nine hours south of the city of Huamanga, Ayacucho.
The exhumation was ordered by the Ayacucho sub-provincial criminal court, acting on testimonies from five witnesses who stated that army personnel killed the children and adult peasants in November 1983.
According to the witnesses, a column of Sendero Luminoso rebels 'recruited' "at least 40 people" in the village of Raccaya on Nov.25, 1983, most of them fourth and fifth grade children (10-12 yrs old), and led them on a forced march for more than 10 hours on a circuitous route to the village at Umasi, where they stopped for food and shelter in the school building (the villages are only about an hour and a half apart on a bad road).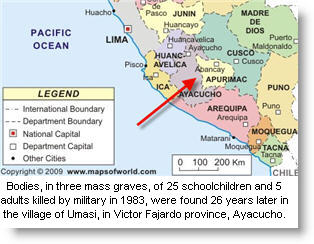 A teacher at Umasi sought help from the military base at Canaria, and at dawn on Nov.27, two military patrols approached the area, surrounded the school and threw grenades into two of the schoolrooms, injuring children and the Senderistas, who surrendered. The witnesses said the military raped girls and women, and shot the children and five adults. Two large graves were dug to bury the bodies, and a third grave was dug to bury two bodies that did not fit into the others.
The forensic team, lead by archaeologist Luis Rueda, found the three graves some 60 m (200 ft) behind the Umasi elementary school. They carried out the excavations last week, Dec.14-20. The first excavation yielded a scene of children's bodies piled on top of each other. Although the massacre occurred 26 years ago, the bodies are fairly well preserved. Most of the children were dressed in school uniforms.
The massacre occurred a year after the military took over the fight against Sendero Luminoso from the police force. The Canaria base was under orders from the Los Cabitos base in the city of Ayacucho, and under the command of General Clemente Noel, political and military chief of Ayacucho and Huancavelica.  Policies outlined in Lima and executed by officers with no knowledge of Quechua nor  understanding of Andean peoples and customs, led to broad suspicion and harsh counter-insurgency tactics.  Reports by the press of military excesses and extra-judicial executions of civilians were consistently denied by President Fernando Belaunde and the Ministry of Interior.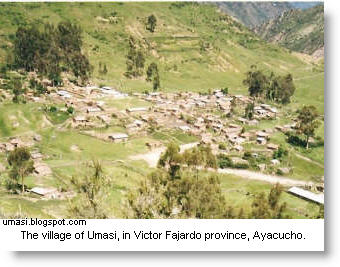 The situation in Raccaya and Umasi was common during the internal war, in which remote villages were caught in the middle, watched and threatened by Shining Path one day and by the military the next.
The Ayacucho criminal court has reported its preliminary findings to the Public Ombudsman and to Peru's human rights association, Aprodeh. The forensic team, meanwhile, have begun their laboratory work in the city of Ayacucho to identify the bodies and causes of death.