Peru's Ministry of Culture received 47 historical artifacts that had been brought back to the Andean country thanks to work by the Foreign Affairs Ministry.
In a statement, the Ministry of Culture said that objects include pre-Columbian textiles and ceramics, as well as a map that dates back to the 17th Century and had been stolen from the National Library.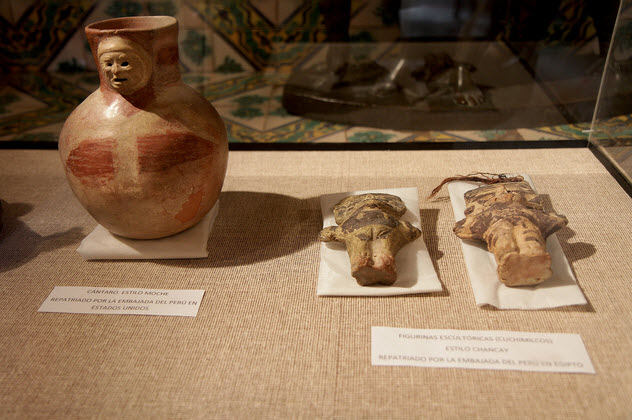 The pieces were recovered from individuals in the United States, Egypt, Australia, Brazil and the United Kingdom, the ministry said.
The smuggling of archaeological objects and other cultural goods out of Peru is a well-documented problem. The government has been implementing an international campaign to recover the property.
"Almost all of the pieces were returned by their previous owners, which shows that there is a change in mentality as they understand it is not good to possess and pillage cultural heritage from other countries," said Luis Jaime Castillo, the deputy minister of cultural heritage and cultural industries.
Castillo said that Peru also expects to receive in the next few months a collection of 89 pieces of blankets from the Paracas culture that were being held in Sweden. Castillo said the pieces were "illegally removed many years ago" from Peru.   The textiles, exceptionally fine examples of Paracas weaving, were smuggled out in the 1930s when many artifacts were sold abroad, sometimes to finance archaeological excavations in Peru. They have been on exhibit for many years at the Gothenburg city museum and kept in specially acclimatized casings.