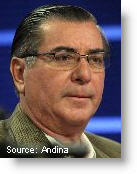 Peru's government is aiming to eradicate 10,000 hectares of coca leaf this year, Interior Minister Oscar Valdes said. 
The annual quota of 10,000 ha was already in place before the new Humala administration took office, but as late as August only 4,000 had been eradicated.  The program has not been considered a success in the past ten years, mainly because support and crop substitution programs have not been implemented on the scale required.  
Peru is the world's biggest producer of coca leaf, the raw material used to make cocaine. The regions with the biggest areas of cultivation are the Apurimac and Ene river valleys, or VRAE, and the Upper Huallaga Valley in Huanuco region.
State news agency Andina reported Valdes saying that the ministry has a plan to reach its goal and is developing further strategies for the upcoming years.
"We have a work schedule until the end of this year and I understand that strategies and plans are being designed for 2012 through 2016," Valdes said.
Peru's eradication work has come under criticism by some analysts since President Ollanta Humala took office on July 28. Critics have questioned the government's decision to temporarily halt eradication work in August and Humala's appointment of Ricardo Soberon to lead anti-drug agency Devida.
Soberon is a lawyer and expert in the illegal drug trade who over the years has worked with coca growing groups, which some say compromises his ability to lead Devida.
Soberon said Thursday there should be "no doubt" that the Peruvian government will implement an integrated policy to tackle the country's growing drug trade.