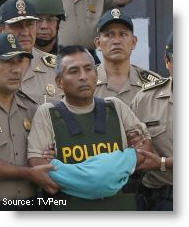 Peruvian police on Wednesday transferred Florindo Flores, the head of the Shining Path remnants in the Upper Huallaga Valley, from the police hospital to the counter-terrorism office for interrogation, newspaper El Comercio said.
Flores, alias Comrade Artemio, was being treated at the police hospital in Lima's Jesus Maria district after he was captured in a joint police and military operation earlier this month.
Flores was badly injured in a confrontation with security forces in the Upper Huallaga Valley, one of Peru's top coca growing regions.
Artemio was the last member of the Shining Path's central committee to be captured. The group reached a peak in the late 1980s and early 1990s as it launched a bloody conflict aimed at overturning the state. About 70,000 people were killed during the conflict, with the Shining Path responsible for about 54 percent of the victims.
Authorities have said that he will face a life sentence for his role in a number of killings and in drug trafficking.
Peru is the world's biggest producer of cocaine, according to the U.S. government.