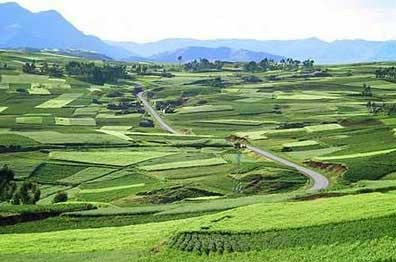 Three consortia submitted proposals on Tuesday to build and operate a new international airport in Peru's southern Andean region of Cusco.
The 40-year contract to build and operate the airport in the sleepy town of Chinchero is to be awarded on Friday by private investment promotion agency ProInversion. The initial cost of the project is estimated to be around $539 million, but the investment could rise to $658, depending on expansions and other works, ProInversion said in a statement.
The consortia —Aeropuerto Chinchero, Kuntur Wasi and Aeroportuario Imperial— submitted their technical and economic proposals for the contract.
ProInversion reported that the Aeropuerto Chinchero consortium is made up of construction company Grana y Montero SA, and the French-based Vinci Airports SAS and Vinci Concessions SAS (Vinci Airports is also bidding for the Santiago de Chile airport). The consortium Kuntur Wasi includes the Argentine firm Corporacion America SA and Andino Investment Holding SA of Peru, which in 2011 won the bid to operate and maintain six airports in southern Peru. The third consoritum is Aeroportuario Imperial is made up of Grupo Odinsa SA of Colombia and Mota Engil Peru SA of Portugal.
The airport will be built in the district of Chinchero, which is home to a community of about 12,000 people, Quechua-speaking farmers with rich, world-recognized traditions in textile weaving. The airport is to replace Cusco's current airport, which is located in the city of Cusco about 35 kms away.  Chinchero likes at 3780 meters above sea level (12,400 ft) whereas the current airpot is several hundred feet lower, at 11,200 ft.
Plans to build an airport at Chinchero, to expand facilities for the now hundreds of thousands tourists that visit the nearby Machu Picchu ruins every year, has been on the drawing board since the early 1970s.
Critics of the Chinchero airport project say that it is a poorly devised plan that will destroy the historical town and the stunning landscapes of the surrounding valley, while also posing serious technical problems due to wind and fog factors as well as its higher altitude than the current Cusco airport.