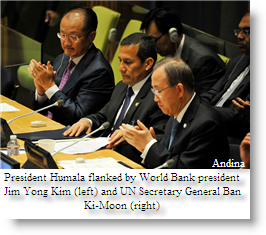 President Ollanta Humala was in New York Monday, where he told the United Nations General Assembly that Peru continues to attract private-sector investment even though the country's economic activity has been slowing down.
The President also reported on Peru's success in achieving several of the 2015 Millenium Development Goals set out by the United Nations, namely in reducing extreme poverty and poverty, and ensuring primary education nationwide.
Humala, who only weeks ago said that the international crisis has reached Peru, denied that the flow of investment to Peru has diminished, daily El Comercio reported.
Humala pointed to recent government initiatives to accelerate investment procecures by cutting back on the time involved in permit processing time for projects.
"We've sent two packages of regulations to Congress to speed up these permits that have delayed the investments," Humala said.
In cases where a company requires a permit to show that there are no archaeology remains at their work site, Humala said the government has cut back the time required to process the permit, from sometimes 12 or 18 months down to 20 days.
In addition to permits, several large mining projects have also been delayed or suspended due due to opposition from local communities, most commonly on environmental concerns.
One of those projects is Minas Conga, a huge copper and gold deposit which was being developed by the U.S.-based Newmont Mining and Peru's Buenaventura.
Conga was put on hold in 2012 following violent protests that were sparked over concerns that it could harm the region's water supply.  Several series of negotiations came to little when some of the leaders of the opposition refused to negotiate.
Humala said that the decision to move forward on the project is now in the company's hands, and not the state.