The government has declared a 60-day emergency throughout the Madre de Dios region, following reports of a high content of mercury in the rivers that flow through one of the richest biodiversity areas on the planet.
The measure is to implement actions to clean up and reduce mercury contamination and applies to the entire region, covering the 11 districts in Madre de Dios —including Tambopata, Inambari, Fitzcarrald, Manu  and Laberinto.
Tests have shown high traces of mercury in the water and sediment of the rivers and in the fish, which are an important part of the diet of indigenous and riverside communities.
The mercury pollution is caused by illegal placer gold mining operations, which have turned thousands of hectares of once pristine rainforest into treeless mud swamps, destroying all wildlife and any hope of short-term recovery of the area.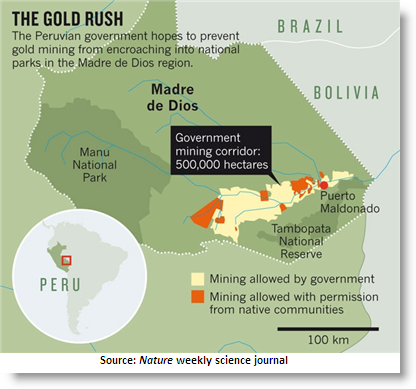 The 60-day emergency measure encompasses a wide set of parallel actions with local governments in conjunction with the central government, including the ministries of  Agriculture, Housing, Education, Energy and Mines, Defense, Interior, Production , and with particular focus on Health, Environment, Culture, Women and Vulnerable Populations, and Social Development and Inclusion.
Despite government efforts to curb the illegal mining —creating an authorized mining corridor (see map, right), authorizing joint navy and police actions to blow up illegal dredges, providing incentives to become formal companies and adopt modern mining methods , and following the trail of mining equipment sales and money laundering transfers— success is a long-term battle.
In 2012, exports of illegal gold from Peru were bringing in about $1.8 billion per year, making it larger than the country's drug trade, according to a study by consulting firm Macroconsult.
In November last year, illegal miners held protests and strikes in Madre de Dios to demand the repeal of the formalization laws.
Presidential campaign promises  
Presidential candidate Keiko Fujimori has promised to roll back the formalization laws and restructure the entire process if she wins the general elections June 5, signing an agreement with illegal miners.  Following this announcement, miners in the Puno region led a two-day strike and marches to again demand the repeal of the laws.
For more Gold Mining stories see:
On the Ground in the Battle Against Prohibited Mining