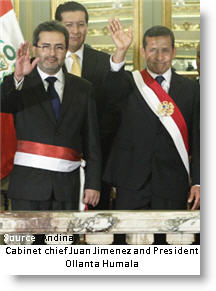 President Ollanta Humala made several changes to his cabinet Monday, appointing a new cabinet chief and five other ministers.
The resignation of his premier, Oscar Valdes, was widely expected. Valdes, a former military officer who moved from the Ministry of the Interior to Cabinet Chief last December, had taken a hard-line approach to dealing with protests against mining projects, with no success. A number of people were killed during the protests, which dragged down Humala's approval rating to about 40 percent.
Valdes has been replaced by Juan Jimenez as cabinet chief, a choice that should mark a very different approach to serious conflicts throughout the country. Jimenez, a human rights lawyer and former professor at Peru's Catholic University, was formerly minister of Justice.
During a press conference after his appointment, Jimenez said the government would emphasize dialogue in resolving disputes in the mining sector, while also continuing to promote private investment. He also said the government would implement new protocol for police and other security forces when dealing with protesters, in an attempt to avoid deaths during demonstrations.
Some 15 people have been killed during the first year of President Humala's government. Five of those deaths came during recent protests against the Minas Conga gold project, majority owned by US-based Newmont Mining, while two deaths came during protests against Xstrata's Tintaya copper mine.
Jimenez is Humala's third cabinet chief since he took office last July 28. The first premier, Salomon Lerner Ghitis, was replaced by Valdes when protests against Minas Conga first escalated.
Other new ministers include independent members with solid experience in public service: to head the Ministry of Agriculture, Milton von Hesse, a Pacifico University economist who worked in the Finance ministry for 10 years, specializing in rural and agricultural development, and this year was executive director of ProInversion, the state investment promotion agency;  as Defense minister, the constitutionalist and former congressman Pedro Cateriano,  who was deputy minister of Justice during the Toledo administration and most recently on the board of the Inter-American Convention against Corruption; to the Ministry of the Interior, Wildredo Pedraza, a lawyer specialized in the criminal system and citizen security who was coordinator of the Special Investigations Unit of the Truth and Reconciliation Commission  and twice head of the National Penitentiary Institute; to head the Ministry of Health, Midori de Habich, who has more than 25 years in social research and policy-making and is a former head of the USAID projects in Peru; and  Eda Rivas, most recently deputy minister of Justice and Human Rights, and with many years of experience in the public sector, replaces Jimenez as Minister of Justice.
Humala has ratified the remaining members of his cabinet, including Luis Miguel Castilla as Finance minister, Manuel Pulgar-Vidal as Environment minister, Rafael Roncagliolo in Foreign Relations, Carlos Paredes in Transporation, Jorge Merino in Mines and Energy, Jose Luis Silva in Foreign Trade, Ana Jara in Women and Vulnerable Populations, Carolina Trivelli in Social Development and Inclusion, and Luis Peirano in Culture.
The new cabinet will accompany President Humala during his address to the nation in Congress on July 28th, following the Te Deum at the Cathedral for Independence Day.