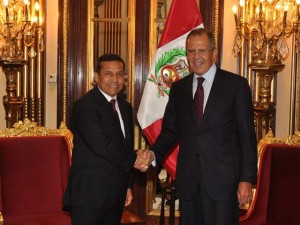 President Ollanta Humala and members of his Gana Peru party met on Tuesday with Russia's Foreign Relations minister, Sergei Lavrov, who is in Lima as part of a Latin American tour.
The meeting came less than two months after Humala's brother, Alexis, travelled to Russia to meet with officials and businesses. The incident led to Humala's first controversy, even before assuming office, because Alexis had presented himself as an official representative of the newly-elected government.
Gana Peru denied that the President's brother was sent on behalf of the party, and said the meetings were made on a personal level.
On Tuesday, Humala and Lavrov said they would seek to strengthen business ties between Peru and Russia. Lavrov also said Russia could provide Peru assistance with its counter-narcotics programs.
"Our technical-military cooperation is also going to make possible a joint fight against drug trafficking and terrorism," he said.
Peru is the world's top producer of coca leaf, the raw material used to make cocaine. The country's counter-narcotics programs are heavily funded by the United States, which also supports efforts in Colombia and Bolivia.