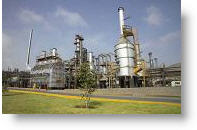 President Ollanta Humala met with the chairman of Spanish oil firm Repsol to discuss a possible purchase of the company's La Pampilla refinery, according to daily El Comercio.
El Comercio said in a front page story on Tuesday that the closed-door meeting occurred late Monday between Humala and Repsol's Antonio Brufau.
Local and international media have been reporting in recent weeks that Peru's government is interested in buying Spanish company Repsol's refinery and its gasoline stations. The purchase would be made through Peru's state-owned oil company Petroperu.
Last week, Peru's premier, Juan Jimenez, confirmed that the government is interested in acquiring a stake in La Pampilla in order to ensure energy security in Peru. He said that an offer hadn't been formerly made, and that if they do acquire a stake it would be a minority position.
According to El Comercio, Repsol has a 51.3 percent controlling interest in La Pampilla, while the remainder is owned by Peru's private pension funds and other shareholders.
Repsol, Spain's major energy company,  has been selling a number of assets since 2012 in moves to reduce its debt.  
The meeting on Monday has been seen as the first attempt by Peru's government to directly negotiate a deal with Repsol.
The issue has come under fire from the private-sector, which says that a government investment in the refinery would send a bad message to the business community. Peru's wasteful, state-owned companies were privatized in the 1990s during the Fujimori administration. Since then, the Andean country's economy has boomed as it has attracted large amounts of private-sector investment.
Carlos Herrera, former energy and mines minister, believes the value of Petroperu lies in oil production and not in owning a refinery, which could lead to the temptation of controlling fuel prices for political reasons.
A leading member of the Peru Posible party, Juan Sheput, told Ideele Radio that he is also concerned that the possible Petroperu decision could provide the government with cash that could in the future "taint the electrocal process  with money from Venezuela," since Venezuela is an oil supplier to the refinery.
President Humala initially ran on a campaign to increase the state's presence in the economy, but he backed away from that in order to gain votes from the political centrists. His administration has been a strong supporter of private-sector investment since he took office in 2011.
Many analysts and business leaders believe that the government could better use the capital that would be needed to acquire and update La Pampilla in order to improve education, healthcare and other issues.