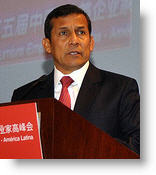 More than 400 Chinese business leaders and government officials,  and representatives of 600 Latin American businesses came together in Lima this week for the 5th China-Latin America Business Summit, inaugurated Monday by President Humala. The Chinese delegation was headed by Hua Jianmin, vice-president of the Standing Committee of the National People's Congress.
The summit included forums, seminars and one-to-one meetings with Chinese businesses in the mining, tourism, agriculture, banking and infrastructure industries.
China has become Latin America's second trading partner —and Peru's most important—after the United States and ahead of the European Union.  China buys 16% of Peru's exports, worth US$5.3 billion.
According to Patricia Teullet, director of Comex, Peru's private foreign trade association, China has evolved from a cheap provider of manufactured goods to a sophisticated one because of its access to different production sources.
Also present at the summit was Alfredo Ferrero, former minister of Foreign Trade and Tourism in the Toledo administration, who believes China is key to sustain Peru's growth (and the world's growth), but that Peru is also important to China not only for its mineral resources and energy potential but because of its geographical location in the center of the continent and facing the Pacific.
At the summit inauguration, President Humala said that Peru and Latin America's development hangs on developing production industries rather than remaining as exporters of raw materials.
"We sell oranges and they send us back orange marmalade. That needs to change," Humala said. "We not only have to export minerals but move towards industrialization, and to achieve that, businesses can rely on the support of the State. We need to build a region that is no longer "developing" but becomes developed."
President Humala added that Latin America needs to improve its trade with China by ensuring peace at the workplace, complying with labor laws in each country, and that workers rights will guarantee quality employment and increased investment from China.  He stressed the need for economic groups to invest in education and technology, and widespread teaching of Mandarin in Latin America and of Spanish in China.
Harry Chang, president of Peru's Proinversion, said the summit has been a major opportunity for Peruvian companies seeking to enter the Chinese market.
Peru's economy grew 8.98% in 2010, and the country has seen more than 10 years' average growth of 6%, low inflation between 2 and 3%, a stable exchange rate, and foreign currency reserves of US$49 billion. 
It has also achieved the much desired investment grade qualification from international rating agencies.  Peru currently has 13 free trade agreements —including with the United States, China, Japan and the European Union— with five more expected to be signed soon and a further  five being negotiated.