Peruvian legislators re-elected to represent districts in Lima have come under fire this week for accepting a payment that is intended to help new lawmakers cover installation expenses.
Lawmakers in Peru are paid a bonus of 15,600 soles (approximately $5,700) when they take office. The money is intended to help legislators that represent districts outside of Lima, to move to the capital city and set up an office.  This bonus has only recent  years included those elected to Congress from Lima and Callao.
Congress allows for all legislators to receive the payment, even though many are already well-established. This has led to criticism in local media and the broader community. Members of the governing Gana Peru party chose not to accept the bonus, a choice also made by others such as evangelical pastor Humberto Lay of the Fuerza para el Cambio party, but some other lawmakers have defend the payments.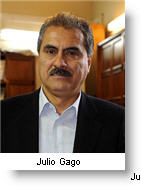 Congressman Julio Gago of the right-wing Fuerza 2011 party said during a television interview Tuesday that he used the money to visit the poorer parts of Lima.
Gago, who was elected for Lima, said: "Supposedly, they tell the population that it is for covering the expenses of legislators from [outside of Lima] to come and setup in Lima, but you can also use it for parliamentary work."
"For me, the money isn't the most important thing. If it was, then I wouldn't have entered Congress," Gago said.
Following the harsh criticism, Congressman Martin Belaunde of the Solidaridad Nacional party said yesterday he would return the funds, which he was going to use to repair his vehicle, and would instead do a fund drive for the repairs. He stressed that the bonus is legitimate and legal but that he was returning the money because he did not want to sully or tarnish his work in Congress — he has been elected head of the Supevisory Commission in Congress, which is charged with monitoring government-related corruption and is to work with the Comptroller General's office.
Monsignor Luis Bambaren, Bishop emeritus of Chimbote and well-regarded social activist, said that the regulation for the payment should be changed.
"They should set an example, not only in word, but also in commitment and conduct, above all if they see and are aware that there are pockets of poverty and misery in the country," Bambaren said.
The executive director of the National Council for Public Ethics, or Proetica, said it is "robbery."
"It isn't illegal, but in practice it turns out to be robbery from the country," said Cecilia Blondet.
"It is outrageous that legislators from Lima and Callao and those who are re-elected take the 15,000 soles for setting up. It is outrageous and it is also immoral," she added. "These [legislators who received the payment] know what is legal and what is illegal, but they don't know what is moral and immoral."