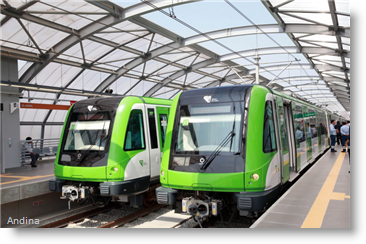 Lima's rapid transit system has added an extra 12 km to Line 1 of its electric train route, beginning the new service this Friday from Av. Grau in downtown Lima along 10 new stations to San Juan de Lurigancho.
The electric Metro system starts in Lima's southern cone, in Villa El Salvador, and travels 22 km to the city center. The new section on this line will now continue on to one of the city's most populated areas.
According to Transport minister Jorge Gallardo, the Metro carries some 228,000 passengers per day.  With this new connection, passengers can travel from San Juan de Lurigancho to Villa El Salvador in 54 minutes — a route that by road can take more than two hours.
The system has 22 trains, with red cars carrying a total of 1200 passengers per train and green cars carrying 1000 passengers.
Meanwhile, Line 2 of the Metro, a 32 km stretch connecting east Lima's district of Ate-Vitarte to the port of Callao, is to be completed by 2019. A large part of Line 2 will be underground.