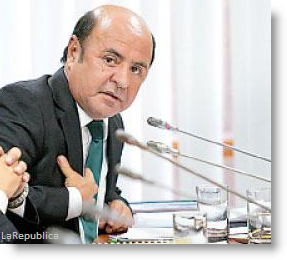 The regional president of Peru's Loreto region, Yvan Vasquez, has turned himself over to police, after going into hiding for almost a week when a court order was issued for his arrest.
Vasquez showed up at a political rally in Iquitos, the capital of Loreto, where he went into police custody.
Judge Erika Iberico accepted last Friday a request from a regional prosecutor for Vasquez to kept in police custody for 18 months while authorities carry out an investigation over an alleged corruption. Vasquez is said to have colluded with a private firm in a public works project valued at almost 9 million soles (US$3.23 million).
Vasquez had gone into hiding July 18 while saying that he was innocent of the corruption allegations and that he feared his political opponents were planning an attempt on his life.  According to Vasquez' attorney, Alberto Borea, there are no proofs of his corruption and that the allegations are being made by a private firm and political enemies who want him out of the way.
The mayors of several districts, however, allege that Vasquez made a unilateral decision to stop distributing the oil canon income to the different districts and provinces for a number of projects he said would benefit the whole region but have proved ineffective. One of the projects was to improve and expand the Iquitos water treatment plant, but the work was faulty and caused floods in the city when the rains season came.
Vasquez is the latest regional president to be taken into custody in recent months, all on allegations of corruption.
Police have already detained the regional presidents of Ancash, Cajamarca, and Pasco. There is also an order for the arrest of the Tumbes regional president, who was last believed to be in hiding in Ecuador, and of regional officials in Puno.   The Ancash case is the most notorious so far, including blackmail, threats and murder in a network ostensibly led by regional president Cesar Alvarez that expands to private businesses, civil servants and members of Congress.
Observers say that corruption has ballooned in regional governments due to a boom in public resources from a strong economy and a lack of oversight on how those funds are spent.