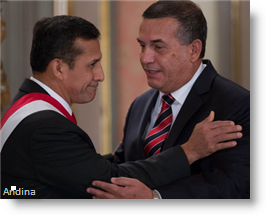 The new Interior minister said Tuesday that he would lead a full-scale attack on crime in Peru, which remains one of the main concerns among residents in the Andean country.
Daniel Urresti, a retired military general, was appointed Interior Minister by President Ollanta Humala late Monday in a small cabinet shuffle that included the replacement of the Transportation and Communications minister, as well as the Foreign Relations minister.
"At this moment we are declaring war against all crime nationwide," Urresti said after taking office as Interior Minister. "We aren't going to give them a truce. We are going to recover the principle of authority and brilliance that the national police has always had."
Prior to his new appointment, Urresti ran the office in charge of reducing unregulated mining by formalizing informal miners and destroying equipment of illegal operations.  The main scope of operations has been in the Amazonian region of Madre de Dios where illegal gold mining has destroyed large areas of rainforest and threatened buffer zones of national parks.
Urresti regularly participated in the operations to raid illegal mining camps, and invited local and international journalists to film police blowing up river dredges and other equipment.  The national human rights coordinator, CNDDHH, however, has questioned his methods in Madre de Dios, citing abusive force and torture.
High crime rates in the nation's cities — not only petty theft but extortion and an increasing use of fire arms— are regularly ranked in opinion polls as one of the top concerns among citizens in Peru, even though violent crime is lower than other Latin American nations.
Urresti takes on the portfolio at a time when the Interior ministry and the Judiciary are undermanned in the investigations into widespread political corruption and crime in several regional governments, most notoriously in Ancash, where politicians have used criminal gangs to threaten and murder their opponents.  The corruption is also deeply embedded in both the police and justice systems.