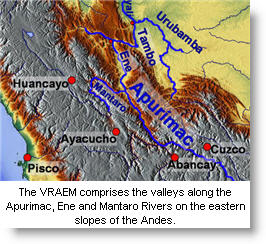 At least one soldier has been injured in a new attack by remnants of the Shining Path rebels, daily El Comercio reported.
The attack on the soldiers occurred close to an army base in Mazangaro, in the district of San Martin de Pangoas in the Junin region, within the area of the Mantaro basin.
The attack occurred when a group of officers were alighting from a helicopter, according to El Comercio.  Pedro Yaranga, an expert on drug trafficking and terrorism, said that the rebels were trying to down the helicopter.
Remnants of the Shining Path, a Maoist insurgency that was largely defeated in the 1990s, operates in Peru's remote Apurimac, Ene and Mantaro river valleys, known strategically as the Vraem.
The rebels have been launching more frequent strikes against the military and other state officials recently.
Last week, two anti-drug police officers were killed early Saturday in an attack near Kepashiato, in the north Cusco region, while earlier this month guerrillas burned three helicopters in a jungle airstrip.