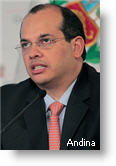 Finance ministers from the Pacific Alliance – which includes Chile, Colombia, Mexico and Peru – are meeting in Lima this week to coordinate actions related to capital markets integration and capital inflows, Peru's state news agency Andina reported.
Economy and Finance Minister Luis Miguel Castilla said the meeting will occur on the sidelines of the World Economic Forum on Latin America that is being held in Lima this week.
"We are going to take advantage of the economic forum to have the first meeting of the ministers of economy and finance from the countries of the Pacific Alliance," he said.
The Pacific Alliance was formally set up in 2012. It aims to deepen trade between the four nations, while also serving as a platform for building relations with fast-growing Asian markets.
Castilla said that part of the agenda for the meeting will be on strengthening capital markets integration. The stock exchanges of three of the countries – Chile, Colombia and Peru – have already integrated as part of MILA. Mexico is expected to join MILA later this year.
Castilla said they will also discuss capital inflows. The currencies of the Pacific Alliance countries, as well as many other emerging markets, have strengthened in recent years due to a flood of U.S. dollars into the market as an attempt to stimulate the U.S. economy.
Emerging market officials have complained that this threatens to hurt their exports, as well as their overall economic growth.
"We'll discuss how to contend with capital inflows that sometimes have effects that are undiserable like the exchange rate appreciation that it has produced in the Alliance countries," Castilla said.
The meeting of the ministers will be held on Thursday.