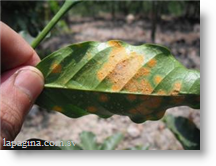 Peru's government says it has provided training for some 14,000 coffee farmers in San Martin region to mitigate the damage caused by a plant eating fungus, according to state news agency Andina.
The training has been provided in workshops by the state's agrarian sanitation service Senasa. The training touched on issues such as the proper use of fertilizers and improving soil in order to support stronger crops and increase production.
Some 35,000 families depend on coffee farming in San Martin, where 92,000 hectares is used to grow coffee. About 5 percent of the coffee grown in the region is organic, according to Andina.
Peru's coffee sector, one of the 10 biggest in the world, has been hit hard this year by the coffee leaf rust fungus, known on the continent as roya, which has destroyed crops in the Andean country and other Latin American nations. Unlike some other Latin American nations, coffee growers in Peru are mainly small-scale farmers.   In August, farmers in the east-central Chanchamayo region blocked highways to demand government help.
Peru's National Coffee Chamber said this month that coffee production is down 22 percent in the first half of 2013. The chamber said it expects Peru to produce 4.6 million quintals, which are 46-kilo bags, down about 20 percent compared to 5.8 million in 2012.
The Agriculture Ministry said that production could be even lower this year due to the roya. Minister Milton Von Hesse said in August that coffee output could decline by 25 percent to 30 percent in 2013.
While the government has pledged support to the struggling coffee farmers, the coffee chamber said that there have been delays to programs to renew crops. Coffee Chamber President Anner Roman said in a statement the "lack of clarity about the program to renew plantations is causing anxiety among the producers and it will limit the attention for families that are affected by the plague."