The publisher of Peru's La R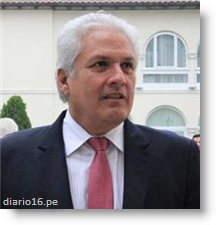 epublica newspaper, Gustavo Mohme Seminario, was elected president of the Inter-American Press Association, during the association's 70th general assembly, held this year in Chile.
Mohme is to lead the regional press advocacy group in the 2014 to 2015 period, La Republica reported.  He served as vice-president in the past year.
Peru's La Republica Publisher Elected to Head Inter-American Press Association
Founded in 1926 as a Latin American group of newspaper publishers and journalists, SIP or IAPA opened chapters in the United States in 1946 and today has  members throughout the hemisphere. Its services include journalism scholarships and internships.
Mohme succeeds Elizabeth Ballantine, of The Durango Herald, and the new officers include Pierre Manigault of The Evening Post Publishing Co. of Charleston, South Carolina as first vice-president;  Juan Luis Correa of La Estrella de Panamá as second vice-president; Vivian Anne Gittens of The Nation News, Barbados as treasurer; y Bartolomé Mitre of La Nación of Buenos Aires, as secretary.
"We will work for the defense of the freedom of journalism," Mohme Seminario said in a speech at the meeting in Santiago.
"Freedom of the press, my dear friends, is not an end in itself, it is a constant battle that we have every day, in every act, in every gesture."
Mohme's father, Gustavo Mohme Llona, was president of the Inter-American Press Association in 1994.
The association recently said there has been a "noticeable deterioration" in press freedom in the Americas in the pst six months due to a "significant increase in direct and indirect censorship and physical attacks on journalists."
"Violence carried out by organized crime, drug traffic hitmen and police-style groups on the orders of several governments of the region left a balance of 11 journalists murdered – three in Honduras, three in Paraguay, two in Mexico, one in El Salvador, one in Colombia and one in Peru," IAPA reported.
"Journalists in almost all the countries of the region suffered physical attacks, particularly in Venezuela where police forces and police-style groups on the orders of the government left a balance of several journalists injured," the group added.
"Physical attacks on journalists were also recorded during coverage of various election processes in Bolivia, Brazil and Peru, and street protests in the American city of Ferguson and in São Paulo and Rio de Janeiro, Brazil."
In Peru, Mohme's La Republica Group led a bid last year to buy the Epensa publishing group's newspapers but was outbid at the last minute by the El Comercio Group.  Mohme and six other journalists in Lima have filed a legal complaint that El Comercio's purchase of Epensa makes it owner of 78% of Peru's news media, an interest that leads to a monopoly on information that reaches the public.