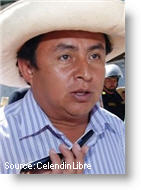 The regional president of Cajamarca, Gregorio Santos, called on mining company Newmont to remove its machinery and personnel from the Minas Conga gold and copper project, daily El Comercio reported.
Santos has led opposition against Minas Conga since last year. Protests resulted in the project's suspension, and raised uncertainties about the government's ability to provide a good climate for investment in the natural resource sector.
Opponents claim the project would harm the water supply, both in quantity as well as quality. The initial project required the draining of four high mountain lakes, with one to be used as a slag pit.  Protests led the government to seek an independent assessment of the environmental impact study, and the recommendation by three international scientists includes reducing the number of lakes to be drained to two.  Protesters continue to believe their water supply will be reduced, but  Newmont has denied the claims and says dams it is to build will actually boost the water supply.
On Thursday, Peru's cabinet chief, Juan Jimenez, said the project was "on the backburner" and that the government was focused on reviving business activity in Cajamarca, which has felt the impact of the protests against Minas Conga.
"There is a problem of a recession," he said. "This region is the only one that hasn't grown."
"Businesses are in a critical situation," Jimenez added.  Both trade and tourism have reported losses in the region since last year.
Meanwhile, Santos reiterated that the project remains socially unfeasible. "The company is recognizing that it doesn't have a social license," he said. 
Santos has refused to be present at recent negotiations between the government and the protesters, including with Newmont CEO Richard O'Brien in Lima, despite the fact that he appointed Father Gaston Garatea to be the facilitator on the protestors' behalf and to act jointly with the government-appointed facilitator, Monsignor Miguel Cabrejos of Trujillo.
Minas Conga would require an investment of some $5.0 billion, and would be one of the biggest private-sector investment projects in Peru's history.