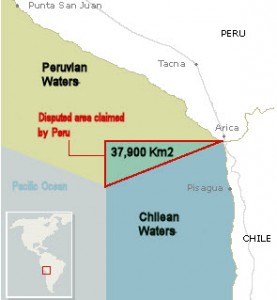 Chilean President Sebastian Piñera said that the implementation of a ruling about a maritime border dispute with Peru will be a gradual process, daily El Comercio reported.
Piñera said that the immediate implementation of a ruling to determine the ownership of fishing-rich waters in the Pacific Ocean "isn't possible to fulfill."
"The only thing that is reasonable is that the ruling be respected, it be fulfilled, but the compliance, the implementation, are going to be gradual and with agreements," Piñera said.
Piñera's term comes to an end in March. He will be replaced by former president Michelle Bachelet.
The International Court of Justice at The Hague will announce its ruling on Monday. At issue is the ownership of some 38,000 square kilometers of fishing-rich waters that Chile currently controls. Another 28,000 square kilometers of ocean is also under dispute. Peru claims that area, but Chile says it should stay under international jurisdiction.
Chile says the borders were established under treaties signed in the 1950s. However, Peru claims that those were just related to fishing rights. Both Peru and Chile are major fishmeal producers thanks to an abundant stock of anchovy in the waters off their coasts.
The dispute dates back to the 19th Century War of the Pacific, which resulted in Chile gaining large swaths of Peruvian and Bolivian territory.
Both Peru and Chile have looked to keep tensions low by saying that they will respect the court's ruling and pointing to the strong economic and political ties between the two Andean nations. Many academics, including Peruvian author Mario Vargas Llosa, have said that the governments have so far been responsible in the handling of the dispute.
However some former officials have warned that diplomatic and political tensions will likely increase between the two countries after the ruling.
Peru's Former Defense Minister Roberto Chiabra said he expects a cooling of relations with Chile after the dispute. "Politically, there is going to be a cooling off," he said in comments reported by Ideeleradio.
"In Chile today, with this change in scenario there is talk again of the unfriendly gestures from Peruvians and that we've invented this case," Chiabra said.
"They are saying, one thing is to maintain the business relationships because it is an interest for them, but there shouldn't be any political initiative because a State that sues you is not a friendly State," he added.